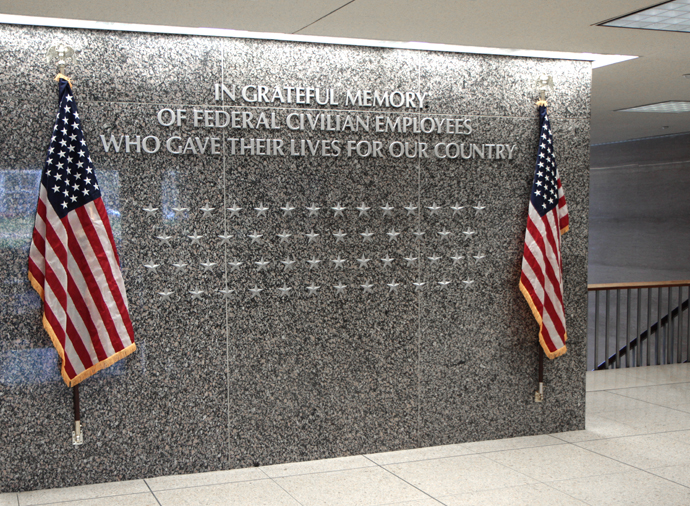 On September 9th, 2014, The U.S. Office of Personnel Management (OPM) announced that the final regulations had been issued for the Flag Recognition Benefit for Fallen Federal Civilian Employees. The regulations allow government agencies to present an American Flag to the beneficiaries of civilian employees who loose their lives while employed by the government.
OPM Director Katherine Archuleta stated: "Authorizing agencies to present an American flag to the families or friends of the fallen is another way for us to pay tribute to their loved one's service and to their dedication to this great country."
Eligibility for the Flag Recognition
The final regulations recently released describe the eligibility requirements and the ways in which the next-of-kin can request a flag for the death of a loved one.
The benefit is for federal employees who have died from on-the-job injuries caused by acts of terrorism, natural disasters, criminal acts, or other circumstances on or since December 20, 2011. Eligible agencies include the FBI, the Postal Service, drug enforcement officers, astronauts, and other executive level organizations.
In addition to the flag recognition, last year, the OPM erected a memorial wall in the lobby of its headquarters building in Washington, D.C. It is the first memorial to recognize federal civilian employees who have lost their lives while serving their country.
The wall has two American flags on either side of it, and includes 52 silver stars-one for each state, the District of Columbia, and the U.S. territories-and an inscription that reads: "In grateful memory of federal civilian employees who gave their lives for our country.
The Civilian Service Recognition Act – Flag Presentation Benefit
The Flag Recognition Benefit for Fallen Federal Civilian Employees implements a part of the Civilian Service Recognition Act that was passed in 2011.
Three federal employee advocacy groups lobbied for the bill, the National Active and Retired Federal Employees Association, the Senior Executives Association, and the Federal Law Enforcement Officers Association.
Sources: U.S. Office of Personnel Management, & Government Executive
Photo Source: OPM